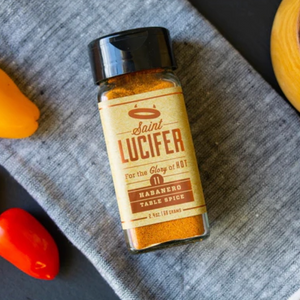 Experience the revolutionary flavor of Saint Lucifer's Habanero Table Spice #11 - an exciting new addition to our selection! This is the exact spice blend that we use in our Habanero Honey Peanut Butter!
A masterful blend of garlic, salt, paprika, vinegar & fiery habanero peppers. Works miracles on - Pizza, Pasta, Seafood, Fish, Chicken, Burgers, Wings, Popcorn, Eggs, Dips, Vegetables, Bloody Mary Rimmer and more. An Italian Flavored Spice Blend. 
Heat Level - Shake a little, shake a lot. You control the heat level. From 1-10 on the Heat Scale. 
Ingredients: Garlic, Salt, Paprika, Vinegar & Habanero Peppers 
2.4oz - 68g